Good Monday to you all!
Today I would like to share a
"Tea Cup" inspired
card with you.
This little tea-cup beauty sits on a shelf in my stamp-room,
love the sweet little purple pansies on it,
a reminder of spring,
when our backyard turns into a purple paradise!
The background panel is stamped with flowers from
the Stampers Anonymous set "Heartfelt" and
dry embossed with musical notes.
I used a wire ribbon for the bow.
The little panel was stamped with a
Hampton Art stamp.
Tiny purple flowers and rhinestones to add
color and sparkle.
I hope you enjoyed looking at my little tea-cup inspired card!
Can't wait for spring to get here
but it looks like it has to wait a bit longer
more snow and extremely cold temperatures
on the way for this area! Brrrr...
Hope you all have a great week
and maybe I will see you all back here next week
when I will be joining Viki Boster at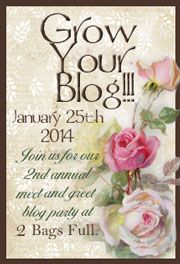 Thanks for stopping in!!!
Diana