Hello everyone
and
Happy Monday to you all!
Yes, I'm still knitting scarves,
and yes I know it's about 90 degrees outside
but
I'm hooked on those beauties
and with the new summer yarns it's
double the fun!
Beautiful Araucania/Alumco yarn I bought at a Fiber Fair.
Metallic beauty.
Love the sparkles!!!
Yarnes by Patons and Isaac Mizrah
(found at Michaels)
who can resist these fabulous colors!
Last but not least I would like to take the
opportunity to invite you to the
7th Annual Blog Party of
"Where Bloggers Create 2015"
hosted by the wonderful
Karen Valentine of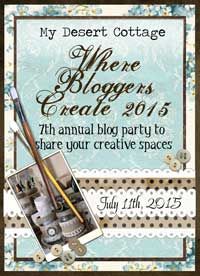 Hope to see you there,
I promise it's tons of fun and
you will meet lots of fabulous creative folks
and take a peek into their awesome spaces!!!
Thanks for stopping by,
hope to see you soon!
Have a great week!
Diana